Post by wnxrip on Dec 7, 2013 17:38:15 GMT
Rips Azure Mining guide:
In this guide I will be explaining step by step how to sign up to Azure and run Virtual Machines for FREE (The paid version is extremely overpriced)
If you follow this guide you will get 3 Virtual Machines for you that will mine for you, these are:
2 x 8 core CPU Virtual Machine
1 x 4 core CPU virtual Machine
To put that into perspective: I have 1 8 core CPU on my real computer, I am theoretically increasing my Quark output/production by more than triple.
Step one- Getting a CPU Miner:
Get a CPU Miner
I recommend this miner here, it is well known
I'm afraid I don't know who's miner this is nor who to credit it to, this is a 64 bit download however, I'm hoping to find the 32 bit download and edit it in later
Miner download:
docs.google.com/file/d/0B9cvOfoOekSdVzZZcThLZHg4bjA/edit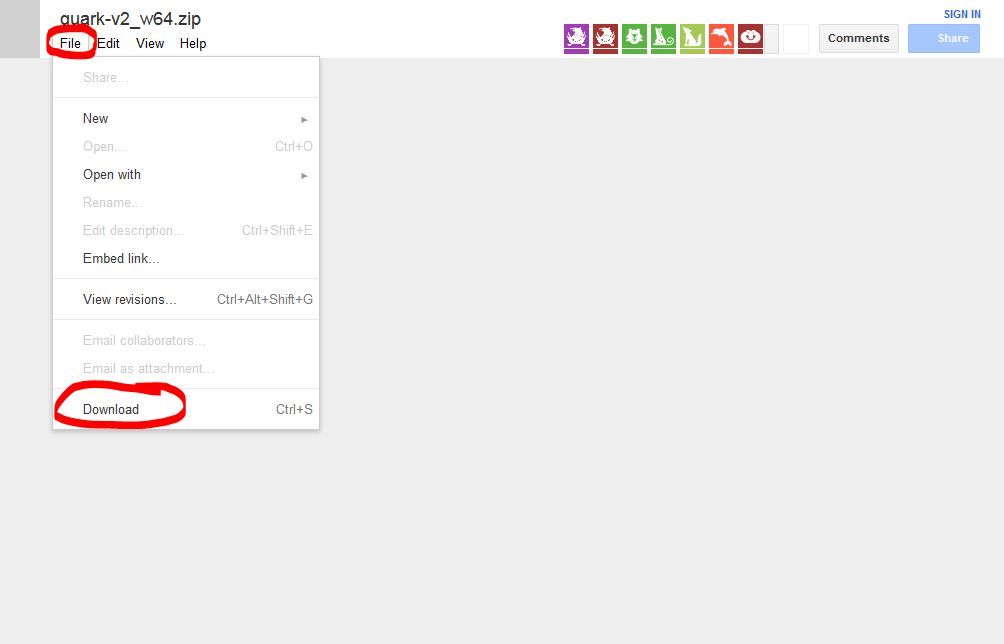 Click on File then download it.
I chose to rename it "QuarkMiner" aswell just for ease of access/finding it later on
Step two- Signing up to the website Azure:
Sign up to Azure. This is done by following this link:
www.windowsazure.com/en-us/
Click on Free Trial: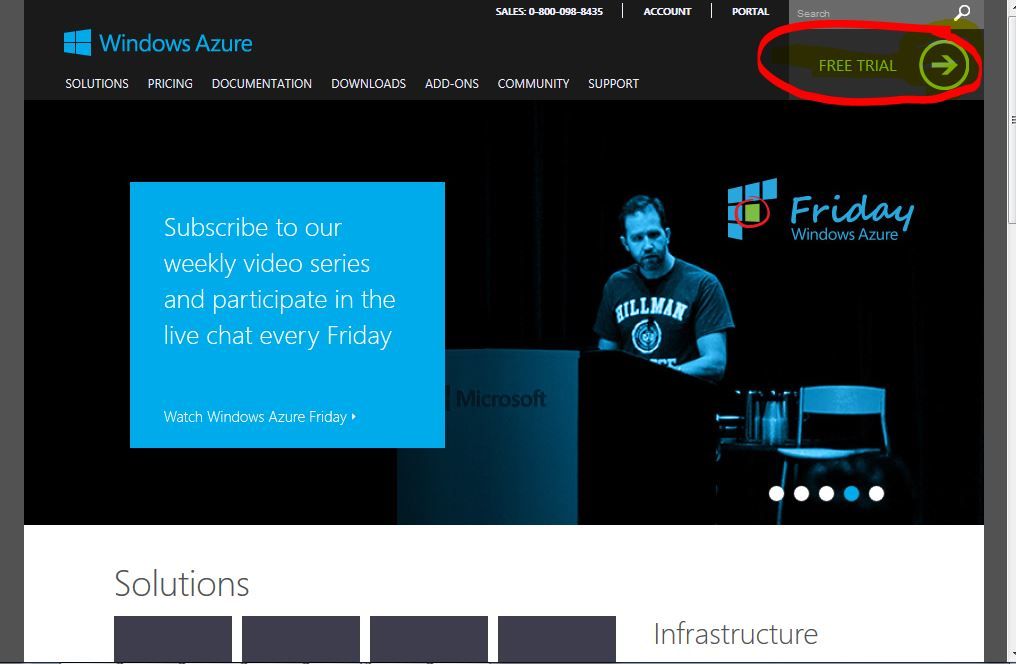 And then click on "Try it now":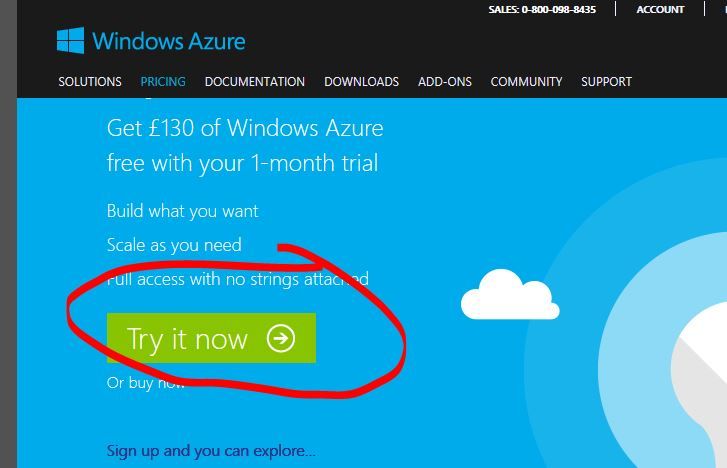 You should then: Sign into your microsoft account (If you don't have one then register one). At which point you will then be prompted for your Debit card details and your phone number (Don't worry, no money will be taken from your bank account, they just use it for identity validation to prevent people like us making 100 accounts and mining thousands of quarks a day)
Step three- Getting to and creating your Virtual Machines:
Once you've registered your account and it is validated you will want to go and create your Virtual Machines.
To do this you should click on Portal on the website located at the top: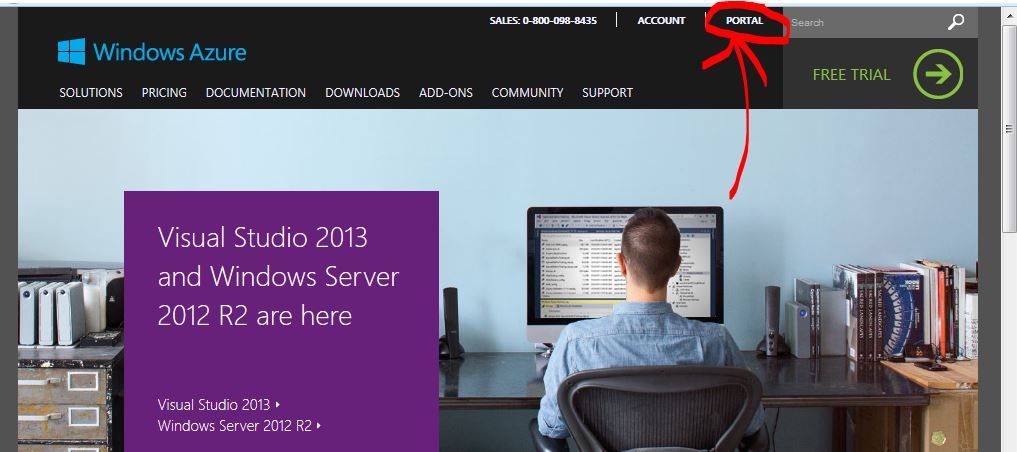 Once you go and click portal you will be brought to the overview of your entire account/what you can make
You should click on "Virtual Machine" in the sidebar to the left and then click "New" at the bottom, as can be seen on this photo here: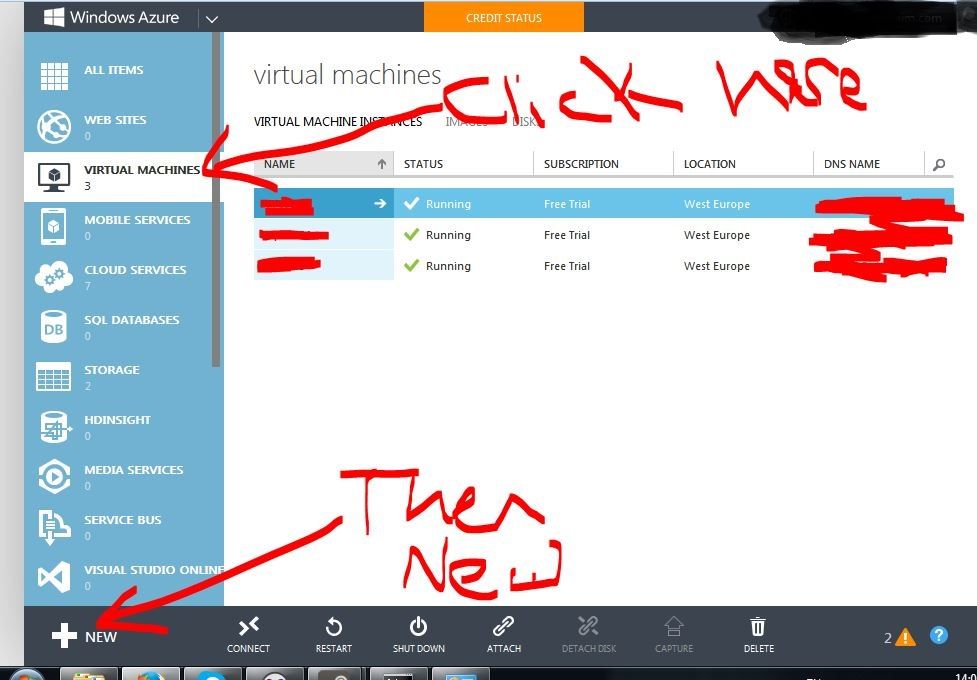 Then you will want to click on: Virtual Machine and then Quick Create. This will then bring up the creation list. Follow the settings that I have shown in this next picture.
DNS name is the name of your virtual machine, choose your own name thats unique
I chose Windows Server 2012/the default choice for Image
IMPORTANT: Remember to change the size (Highlighted in red in the photo), each VMachine will need to be changed to this.
On your free trial you are allowed 2 8 core/Extra large machines and 1 4 core/Large machines, make sure you set the size to the right one otherwise you'll have a bad time.
Here is the screen for reference: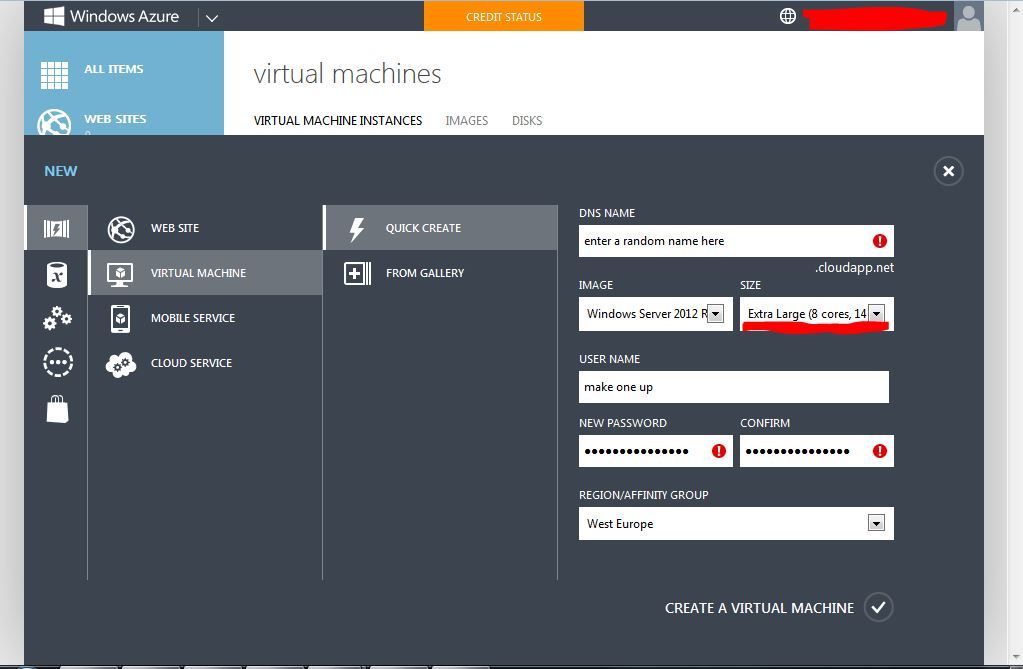 and here is the one for the 4 core/large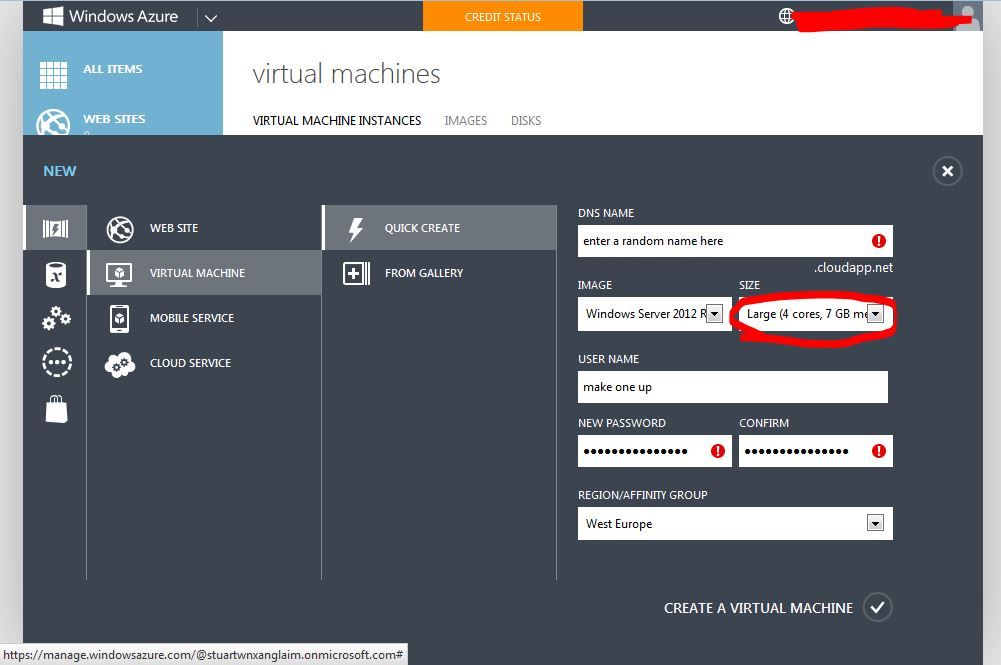 Step Four- Accessing the Virtual Machines that you have made:
To access the virtual machine you have made you simply need to click on the Machine you want to connect to and then click Connect which is at the bottom of the screen:
This will then prompt a download, do not be afraid of it, it is VERY small (74 Bytes per VMachine), Once it's downloaded then open it, this screen will pop up (Notice that I chose Other User to fill out the form):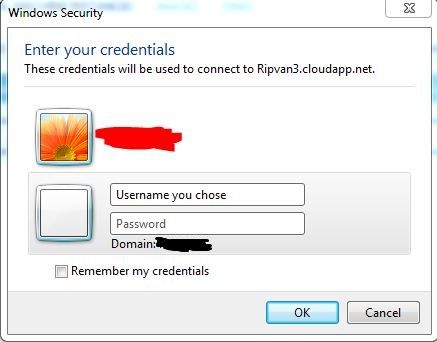 This will then log you into your Virtual Machine
Step Five- Getting your Virtual Machine ready to start mining:
This next step might be a bit hard to understand, you should make your Virtual Machine run in windowed mode (At the top of the screen theres 3 options, chose the middle option, it should be next to the close button (X)
This will allow you to input the data from your real computer to the Virtual Machine easily.
You should take your miner that you installed earlier (On your REAL computer) it is usually in your downloads folder, right click on the folder and chose "Copy" (You should know this stuff already but yeah).
Once you have copied it you should then go over to your Virtual Machine and "paste" it on the desktop (Right click then paste obviously):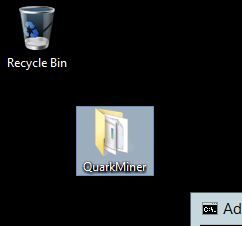 Once you've done that, Open the downloads folder (Bottom of the screen on your Virtual Machine), and drag the miner from the desktop into the Downloads folder).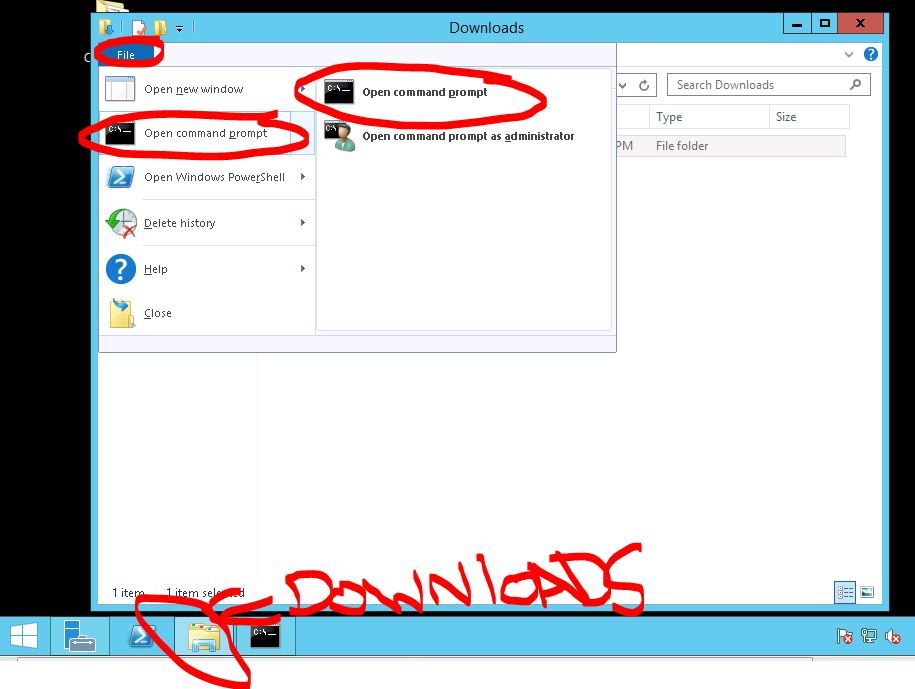 Look at the above image and you'll see i've also shown you how to open the cmd.exe
Click on File: Open Command Prompt: Open Command Prompt again.
The command prompt is how you get your miner to actually start working and mining you those Quarks

Step Six- Inputting the command prompt to get the machine mining:

In your command prompt (CMD.exe)
you will want to type:
dir
This will then list what is in that folder
then type
cd QuarkMiner
If you named your mining folder something else then type in it's name, it should be on the list of folders if you typed dir
now type
dir
this will bring up a list of every file in your mining folder, you'll then chose the miner to start mining, if you use the one I recommend then the next step is to join a pool, I will explain more about pools in the next step but as it is, i'll presume you've signed up to a pool already.
My recommendations for a pool is:
www.coinmine.pl/qrk/index.php?page=gettingstarted
I would also recommend making a separate worker for each Virtual Machine (So you can track each Virtual Machines output)
So say you're using the pool that i'm saying:
I would type in the control panel:
minerd64_sse4.exe -a quark -o stratum+tcp://qrk.coinmine.pl:6010 -u [Accountname.Workername] -p [password]
So say my Accountname was called: Jimmy1, and my Worker was called Miner1.
I would type in: -u Jimmy1.Miner1
As for the password, the password is the password you set up for the WORKER not your account password, so say the password for Miner1 was Colgate5412.
I would type -p Colgate5412
After this is done I would press Enter on my keyboard and it should start mining perfectly
This is what your command prompt should start coming up with (after it binds cores):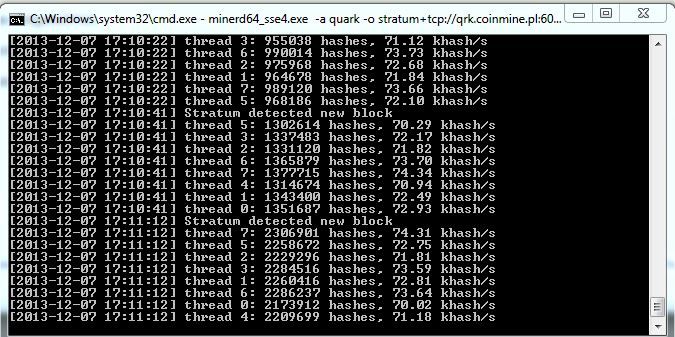 Step Seven:
Do Step Six for all 3 of your Virtual Machines
Revisited- Joining a mining pool:

This is here just incase you haven't joined a mining pool yet.
I recommend Coinmine.pl sadly at the time of writing it is currently nonoperational however it will be working in the next few hours hopefully, it is highly reliable.
The link for the joining info is here:
www.coinmine.pl/qrk/index.php?page=gettingstarted
URL:
qrk.coinmine.pl
Stratum PORT: 6010
Username: Accountname.Workername
Password: Workers Password
Basically type this to get it working: stratum+tcp://qrk.coinmine.pl:6010
Once you've made an account on the website you should be able to create workers under the account tab (can't get a screenshot right now since I can't login when website is in maintenance mode
However it should be the second option from the left, hover your mouse over it and then a dropdown menu will come out, chose "My workers". then create 4 (3 for your Virtual Machines and 1 for your Computer)

The End:

Thank you for reading the guide, I'm sorry that it's probably not THAT well written, I hope I helped you get started mining in general or with Azure, It took me about 6 hours when I started to work out how to mine/what to do so yeah.
if your PC has 8 cores and you mine with Azure your Quark production should be up to 50-80 quarks a day. If your CPU on your computer is an I7 then you might even get even better.
Note: None of my CPU's/computer is overclocked so you could probably squeeze more Quarks out that way aswell.
It took nearly 2 hours to write this and compile all of the photos.
You've probably got about 7 days worth of extra mining power with the Azure free trial
If you found this helpful and would like to donate some quarks to me to say thank you then I would be very grateful: QaWyiS12BjPk7iGivmn3UnMte6VBW8o11q
Credits:
Chad- Brought the knowledge of Azure to the community, please consider sending him some Quark aswell
forum.qrk.cc/user/825
QbtRo3FzXfvLf5gLqu2Pd6FoeaX5udNL1R